What's new at the shop? updated 4/25/2016

MAJOR TREE CITY CHAMPIONSHIP
CONTEST UPDATE -
Due to some unforeseen major problems with contest venue, stage, sound etc.
The Tree City Championship will take place at Time Zone Toys in Meridian. Stage, medals ,banners, backdrop, sound system, tents, chairs all have been rented. We have reserved the entire lot in front of the shop for the entire day. We are very sorry for late notice , but there was no way we could accommodate the original venues last minute requests.
Some of the many bright sides of this means
* THERE IS NO ADMISSION CHARGE FOR SPECTATORS! *The 2016 Sweets Kendama line will also debut for the first time anywhere in the world at the event.
*Krispy Kreme, Dennys, Wendy's, Blue Sky Bagels, Red Robin , Golden Wok and Starbucks all in 3 minute walking distance from event.
*Same schedule for the day just a new location.
*Cash Prizes for all Freestyle Divisions!!
email any question to timezonetoys@gmail.com

TREE CITY CHAMPIONSHIPS- CASH PRIZE UPDATED!
THANKS TO ALL OUR SPONSORS!
1ST 1A YO-YO FREESTYLE $300 1ST KENDAMA FREESTYLE $300
JR.CHAMPIONSHIP $50

FRIDAY KENDAMA NIGHT AT THE SHOP!

Every Friday night we have our kendama Jam at
Time Zone Toys in Meridian
from 5pm -7pm. Rain or shine this Jam is FREE to attend . Last week we topped off at 50 players. We also offer the best kendama instruction and selection of damas anywhere in town! Make sure to check out the
Tree City Championship
page , to see our special guest coming to town.
Time zone toys is proud to announce
Mikey Schelling
owner of lionhead Kendama & yumu Kendama pro
as our tree city championship kendama contest host

united states yo yo champ Gentry stein
making his way to boise for tree city 2016

Find out how to get World Famous Yo Yo Pro Gentry Stein to your school for a special performance on April 29, 2016. Gentry was spotted at Wadi Rum , yup that's a camel and he's in Jordan just 3 days ago.
CLICK THIS TO FIND OUT HOW TO GET GENTRY TO YOUR SCHOOL!

Big congratulations to our local Time Zone Toys Club member Paul Harness on his 2nd straight Idaho State Yo Yo 1a Title! Check out Paul's routine from last week's Idaho Sate Yo Yo Contest.
Reminder, we offer free classes every Wednesday night at time Zone Toys in Meridian 5pm-7pm.

2014 WORLD YO YO CHAMPION
2015 US NATIONAL YO YO CHAMPION
GENTRY STEIN
IS COMING TO BOISE, IDAHO
APRIL 29TH @ TIME ZONE TOYS MERIDIAN
APRIL 3OTH @ KIDS FUN FEST 2016

https://youtu.be/KoLaHKfVRkQ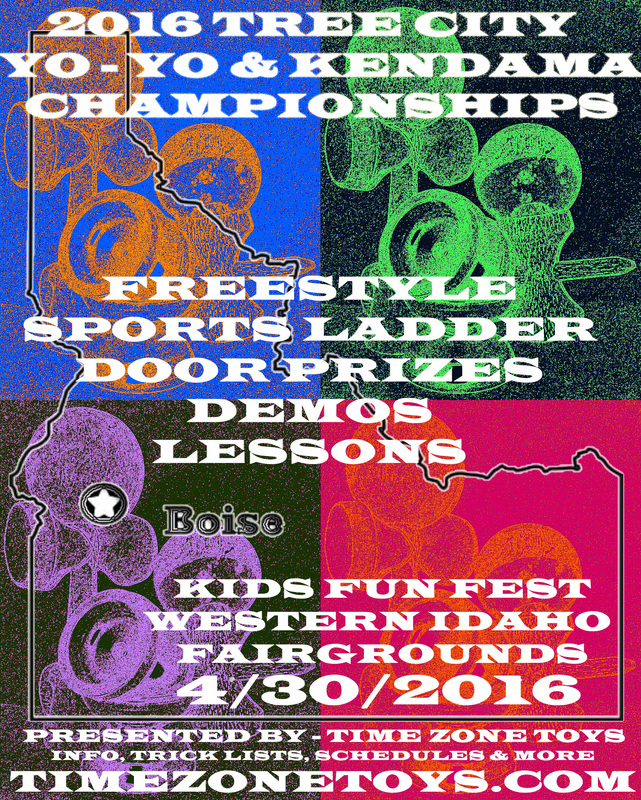 Idaho States is coming up in less than 2 weeks. This event will be held in Pocatello , Idaho. Details are being added daily for the event and

registration

being opens online March 1st.
Team Report from the 2016 United States
Pacific northwest Regional Yo-Yo Championship

Two members from our Time Zone Toys Yo- Yo Club traveled to Seattle for the 2016 US Regional Yo-Yo Contest.
Paul Harness, the current Idaho State Champion, managed to qualify for the finals by getting a top 15 finish out of 49 players in the preliminary round. Paul missed the top 10 by less than 4.8pts. in the final round. This field was loaded with players and included the former 2015 World Champion and the current National Champions from Canada, Iceland and the USA.
Jeremiah Bazan, 9 years old, placed 10th in the Novice Freestyle Division. This field included players ages 9 thru 25.
Both players did an amazing job and represented the shop and Idaho proudly!

Time Zone toys has confirmed to be part of the inaugural Border Town Comic-Con on March12, 2016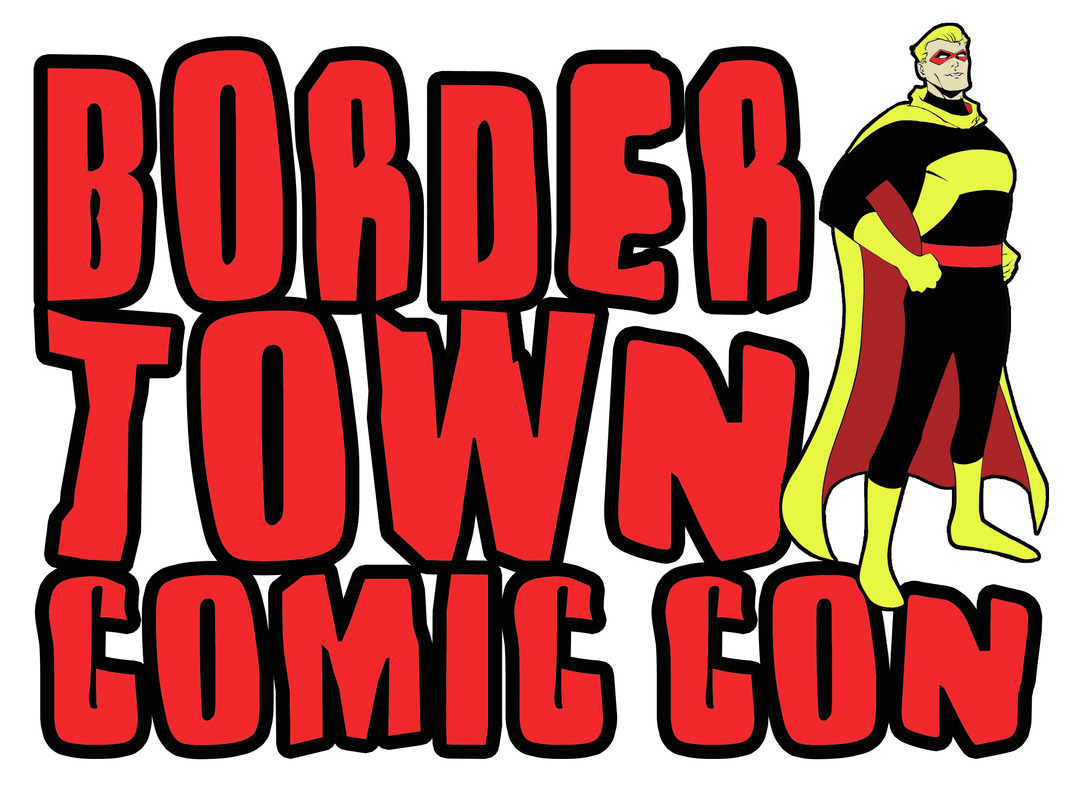 The 2016 idaho & kendama season has begun!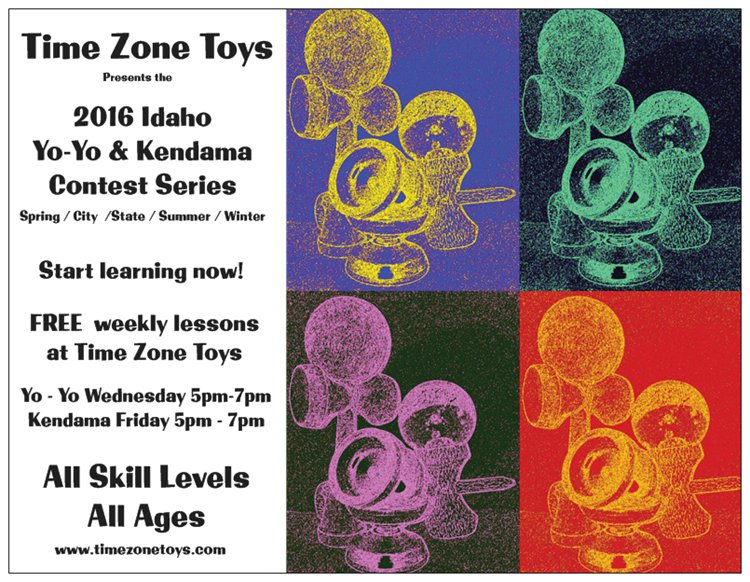 Friday night Kendama Jam to start this January and hosted by local Kendama Pro, Tanika -
Friday night at Time Zone Toys
5pm till 7pm!
Free to attend!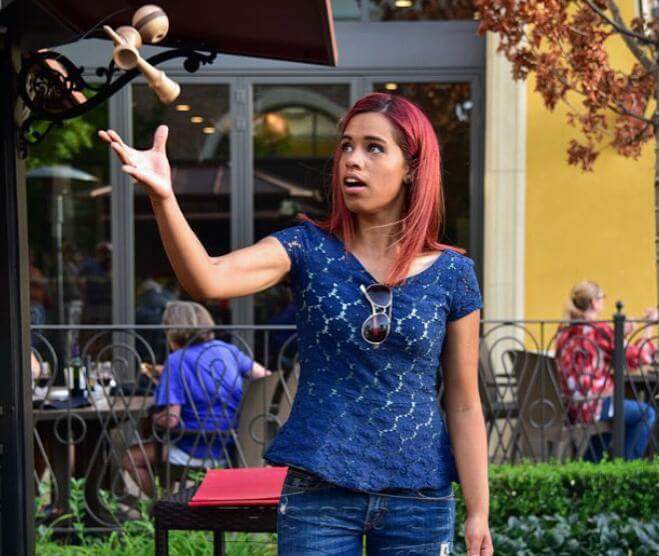 Time Zone Toys Yo Yo Night - Every Wednesday 5pm-7pm

Free to attend and learn. Starts again January 6,2016
Meridian Press article on the Time Zone Toys Star Wars section & Yo- Yo Classes!

Time Zone Toys featured in the Idaho Statesman -
Treasure Magazine "Idaho Unique Destination Location"